Workshops with Marcela 2023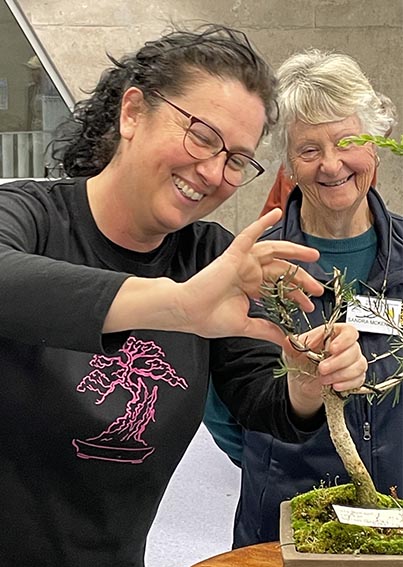 Sandra McKenzie
I recently had the privilege of participating in three workshops at Pembroke School with Marcela Ferreira. Marcela is the Secretary of the Victorian Native Bonsai Club and her area of expertise is Australian Native Plants as Bonsai.
We can read books, watch YouTube videos and watch demonstrations ad nauseam. However, there is nothing like working on your own trees under the watchful eye of an experienced and knowledgeable person like Marcela.
She guided the participants of the workshop through the process of transforming a plant in a pot to a potential Bonsai. She took the time to discuss their trees and proposed outcomes with patience, consideration and some humour too.
If you have been  hesitant in participating in a workshop I can recommend joining one when the next opportunity arises. Not only do you learn a great deal and have fun, but you also get to know your fellow Club members as we share our Bonsai odyssey.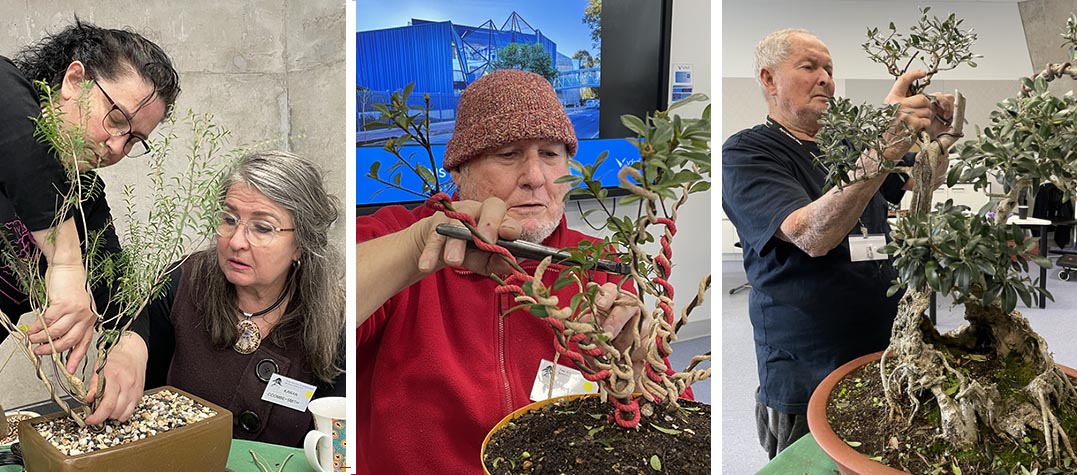 Matt Sharp
I first met Marcella at the National Bonsai Convention held in Melbourne 2019, which had a focus on Native trees and she won an award amongst stiff competition. I later saw her in Canberra at the National Bonsai and Penjing Collection where she was running workshops and did an excellent demonstration opposite Tony Bebb on a beautiful Melaleuca. The tree so impressed me I successfully bid for it in the subsequent auction (I was actually bidding against Marcella herself, which I still feel a little guilty about but she was very good about it). I also admired how she respected the tree she was working on, never pushing it too far for the sake of looking impressive for the demo, and equally respectful of the next day's workshop participants, never imposing her ideas without buy-in from the tree's owner. Obviously I was pretty excited to attend a workshop when she arrived in Adelaide.
For the workshop I took along two trees, an advanced Eucalyptus I've had for many years that was in need of a design change and a twisty Leptospermum that's been in training for a while but I was looking for ideas on the final design. As usual for me the second tree was a backup in case we got through the first with enough time to spare. Marcella stated from the start that she wouldn't push any ideas without approval from the owner and I was impressed with how she kept to this over the whole weekend. I took the opportunity to listen to what she was advising to all the participants, and since I'm less experienced with native species my brain was soon overflowing with information and ideas, and I was quickly reaching for the notebook to take as much down as I could. After discussing my Eucalyptus I had the branch cutter out and took off a lot of the fine ramification to reveal the inner structure, which is something I may not have done if I'd been working by myself in the shed. My main concern had been that the tree didn't look particularly like a Gum tree, but Marcella was able to help me bring it out, and I was really pleased with the result.
We had a bit of time at the end so Marcella was able to have a good look at the Leptospermum I brought. I had been twisting it into tight shapes all over the tree without concerning myself about the final design, and with Marcella's help we identified the best front, eliminated some branches and picked out a new apex. Also, I learnt that I had been letting the sacrifice branches get too strong and I was better off removing or shortening them earlier before they took too much energy from the shoots I wanted to keep.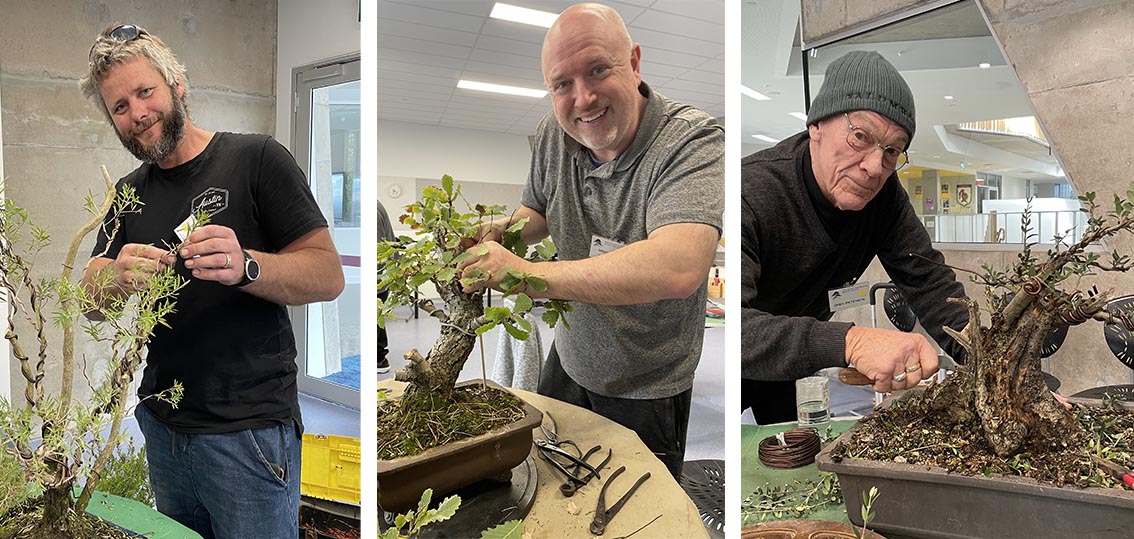 What a great workshop! I have pages of good horticultural and design information, and I have two trees well on their way to their next stage of development. I'm now more confident with these species which opens up whole new areas to work and experiment with. Looking around the room there were a number of younger trees that had their first styling and were looking a million bucks.  Marcella runs an excellent workshop and has a wealth of experience and talent to pass on. She made everyone comfortable and I look forward to having her back one day in the future.
Thanks Marcella!
Ruth Creedy and Heather McDonald
Classical Japanese and Penjing Bonsai styling has dominated and inspired us for many years. Providing a vast area of Bonsai practise utilising, mostly Pines, Olives, Ash, Figs and Maples, the basics in the majority of Bonsai collections. However, growing numbers of bonsai enthusiasts, (including us) have expanded their interest to our vast array of Australian native plants and have quickly discovered that native plants don't necessarily conform well to the traditional aesthetic.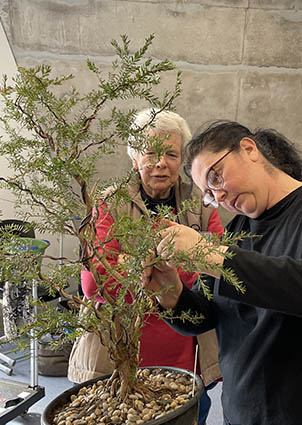 Last weekend's workshop  with Marcela Ferreira  marked a major boost to our knowledge base and a general awakening to the bonsai potential of Aussie native plants. Central is the close observation of mature specimens in nature to determine the best style for your bonsai plant.
Marcela has worked closely with Quentin Valentine – 'a master' and legend across the country. She has built on this experience and is at the forefront in developing, a new 'Australian' style of bonsai for Australian native plants.
Marcela was very generous, sharing her vast knowledge, experiences and expertise with everyone. Her tips for my Melaleuca nesophila and work on my Banksia marginata were inspiring and styling of Ruth's Baeckea virgata was outstanding.
The workshop with Marcela was an invaluable experience and an absolute pleasure. Congratulations to the committee for securing her. In addition , the venue of Pembroke was the best venue yet, with excellent lighting, space and comfort for everyone who participated.