Advanced Exhibitors
This section features those club members who have reached the highest  level of bonsai exhibition.
---
Greg Paterson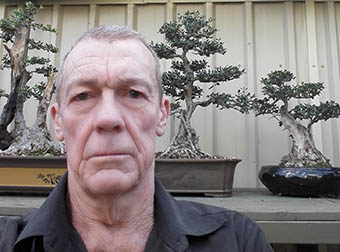 Greg has been an active member of SA Bonsai since 1992.
A few years prior to this he was doing a painting job and noticed small trees growing in plastic butter containers. Making inquiries, he discovered they were called 'bonsai' and that very afternoon, borrowed books from the local library to acquaint himself with a practice that has fascinated him ever since.
Greg credits Mick Ryan as an early influence on his practice but he also believes that he learns something new at every meeting and enjoys workshops for the opportunity to look at other people's trees, talk about design options and assist with suggestions for pruning and wiring.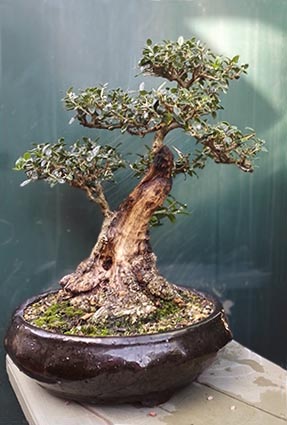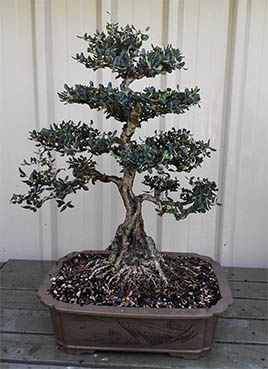 Over the years Greg has assembled two folders of bonsai and penjing images, suggesting that these are invaluable to him as a source of inspiration, especially when he's exhausted all options himself. Taking time out to quietly browse has been important to overcoming difficulties, as has hands-on experimentation – and if all goes awry, Greg is a firm believer that one can rethink the design and begin again, taking the tree in a different direction.
He admits that he, like most beginners, wasted time collecting anything and everything in the first 10 years of working with trees but now tries to limit himself to olives (his favourite), elms, figs, prunus, azaleas, firethorns and conifers.
Since he has retired Greg exhibits more regularly, winning three first prizes in 2015 at the Adelaide Royal Show. He will continue to exhibit at the club and also maintain his contribution at workshops, generously supporting rest of us.
Advice to novice bonsai practitioners
Enjoy your trees and avoid worrying too much about how they look. One's appreciation and attitude about style will change and develop. This means that you can always return to a tree to restyle it.
Awards
Winner of the SA Bonsai Society Perpetual Trophy – 2012, 2013, 2014, 2015
---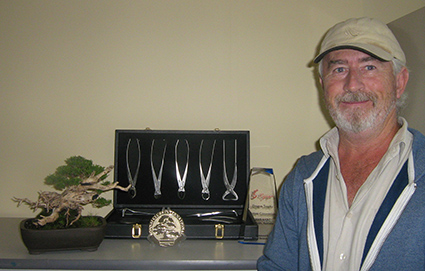 Chris Drinkwater
Chris is best known for his work with Eriocephalus Africanus and first presented a two-year-old bonsai of this genus in the novice section in 2010. He rapidly progressed into the advanced section.
In 2015 two of his trees were loaned to the National Bonsai and Penjing Collection in Canberra where they will remain for three years.
An interest in bonsai was stirred almost thirty years ago when Chris's brother dug a cotoneaster, put it in a small pot and proudly declared it a 'bonsai'. I can do better than that thought Chris and what followed was the gradual development of understanding and skill that has made him the unassuming but adept bonsai practitioner that he is today.
The creative flair that is apparent in his work is not surprising given that Chris has been painting landscapes for many years prior to taking an interest in bonsai. Fishing trips provided opportunities to paint river scenes and to quietly observe nature and in particular the form of trees such as the eucalyptus, one of his favourite subjects for bonsai.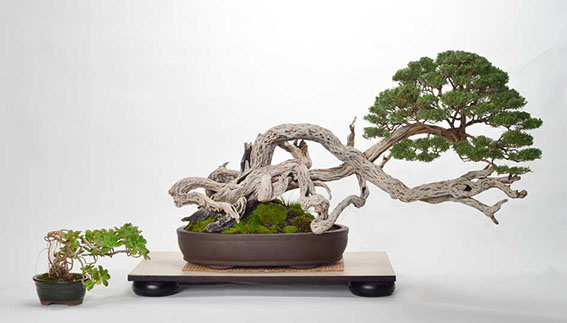 During the formative period of his work with bonsai Chris describes how the 'lights went on' after viewing the bonsai at the Royal Adelaide Show and the subsequent exhibition staged by the SA Bonsai Society. He was inspired to join a Northern Districts Bonsai Club and encouraged to exhibit at the Royal Adelaide Show where he won a second prize and has been winning numerous prizes annually at the Show ever since. It was during the 2009 Royal Adelaide Show that Janice Kain noticed his work and invited Chris to speak at a club meeting about his involvement with native trees as bonsai. This was the beginning of his involvement in the SA Bonsai Society.
Blending trees with driftwood or using the 'phoenix graft' has become a signature technique in Chris's repertoire and is designed to bring additional age and rhythmic strength to his bonsai. This technique is exemplified in many of his Eriocephalus Africanus.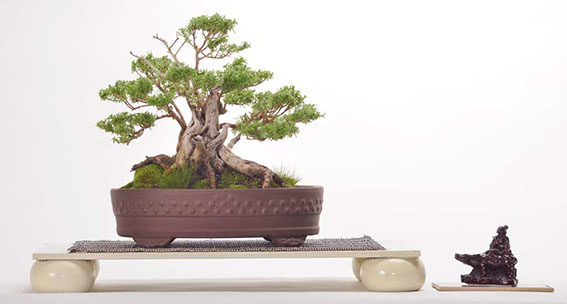 Advice to novice bonsai practitioners
Have a basic knowledge of the 'rules' of bonsai because it is only then that a practitioner can consider bending them.
Take careful notice of how trees are presented for display
Awards
Bonsai Clubs International Award of Excellence medal (2015)
Ryuga Dragon Trophy (2015)
Advanced Exhibitor 3rd place – 2014, 2015
Advanced Exhibitor 1st place – 2016-18
---
Ruth Creedy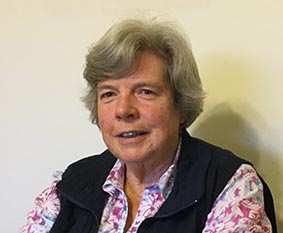 Coming from a family involved in various aspects of horticulture, Ruth has always been interested in gardening and the nature of plants.
The practice of bonsai was a natural evolution of this interest and stimulated also by a desire to explore small plants that could readily be moved into view in various locations. Working with bonsai also meant that Ruth can be kept busy in inclement weather when it is not conducive to be braving the elements in the rest of the garden.
With many trips to Japan under her belt, including a six-month scholarship to study and practice paper-making, Ruth has had valuable opportunities to explore bonsai as practiced in Japan and subsequently joined the SA Bonsai Society in 2007. Like many club members, Ruth credits Janet Sabey as an early influences, as well as Joe Piro and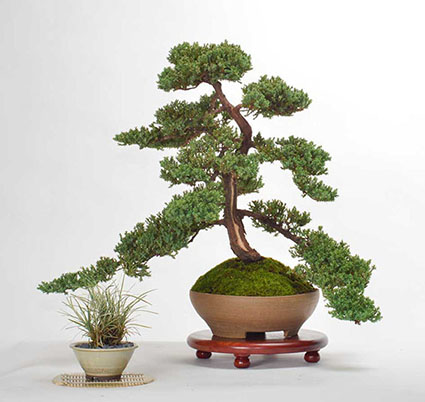 also the various visiting national and international tutors. However, as with all experienced bonsai practitioners, Ruth has developed her own style and is confident to take the risks necessary to create a beautiful tree.
Originally from the cooler climate of the Adelaide Hills, Ruth has recently returned to live in this area and consequently her bonsai collection is dominated by European trees, with Maples her particular favourite. She has cultivated a broad range of deciduous trees and also has some very impressive pine and juniper bonsai. Her preferred styles are the Cascade and Literati.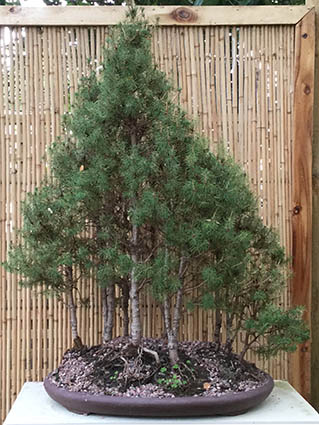 Ruth's trees are often featured in major club displays and she always brings a tree to work with at club workshops, where others can observe her, discuss the process she is undertaking and also seek advice on their own trees.
Advice to novice bonsai practitioners
Be brave! Bonsai is a new skill and a worthwhile one
Take advantage of the experience and expertise of other club members
Awards
Royal Adelaide Show 2015 (various)
---
Matthew Sharp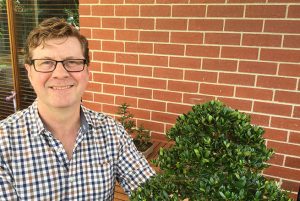 Matthew recently commissioned a beautiful pot to accommodate his very first bonsai – a small Juniper originally purchased from the Blackwood Garden Centre in the early 1990's and one that has experienced several style changes as Matt's skills have developed.
As with many initial enthusiasts, Matthew borrowed library books to get himself started with bonsai and while he attended several Bonsai Club meetings in the early 90's, he couldn't commit himself regularly until about 2001. From this point though, he began to take his bonsai practice more seriously which involved plucking up courage to take a tree to a workshop. Matthew still recalls the workshop where something 'clicked' as Marie, Howard and Bob provided advice concerning his tree.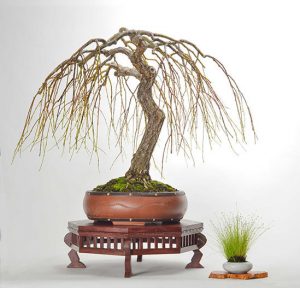 This experience heralded the true beginning of his bonsai journey. He spent time pouring over the Club library's Japanese magazines and began experimenting with what he was discovering. By 2002/3 Matthew began presenting what he describes as 'very modest trees' for club competition.
In retrospect he is grateful for the forthright judgements he received but at the time he was horrified on one occasion to have a Juniper described by Howard Hammon as a tree with an 'identity crisis'. This experience 'lit the fire' for further determined experimentation and one of the best ways Matthew found to clarify specific styles for his trees was to make drawings prior to styling – a practice that he continues to follow and encourages others to do. He argues that the drawings not only help his thinking but are a reminder at a later date of what he was originally planning.
Receiving the Club's Encouragement Award in 2006 was another stimulus that kept him motivated and determined to improve.
As his practice evolved, Matthew was invited to talk at a Club meeting about wiring a Willow tree and it is from this point that members began to seek him out for advice and support. He remains much sought after for advice and provides demonstrations and workshops both within the club and beyond.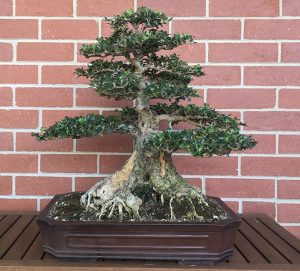 Ten years ago Matthew set himself the goal of having a tree selected for display at the National Bonsai and Penjing Collection in Canberra – this ambition was realized in 2015 when his Willow went to Canberra and again in 2017 with an Olive making the journey for a two year stay.
Advice to novice bonsai practitioners
Aim high!
Bring trees to the workshops and meetings, even if you're not confident of their quality.
Save up and buy an established bonsai on which to practice refinement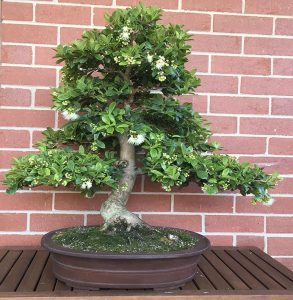 Awards
Royal Adelaide Show Awards 2010
Grand Champion
Deciduous Bonsai 1st
Evergreen Bonsai 1st
Deciduous Bonsai 2nd
Champion Deciduous
Positions held within The SA Bonsai Society
Vice President 2014 – 2018
President 2019 –
---
Luke Parsons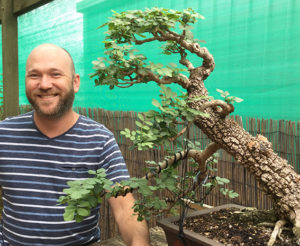 Although Luke attended club meetings when he was 18, he drifted away until he's early 30's when he admitted to himself that working in isolation had its limitations and there was much more he needed to learn.
He attributes the rapid progress he has made over the last five years to the opportunities he has had to working as the assistant to visiting demonstrators. He assisted Koji Hiramatsu throughout the 2015 Australian National Bonsai Convention and chuckles that perhaps he was in a better position than the audience to soak in Koji's message.
Assisting Mauro Stemberger on several occasions has refined Luke's wiring skills and convinced him that without wiring, there is no bonsai. He also recognizes Grant Bowie as an influence on his practice.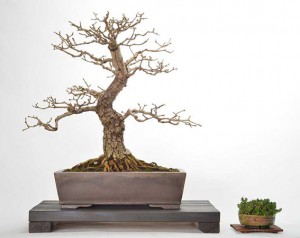 Luke admits that the rules of bonsai eventually got in his way as they often conflicted with his intuitive sense of design. In fact, he refers to them as 'The Australian Rules of Bonsai' and argues that following them at the cost of aesthetics is not the way to go. Luke has even kept his early trees which reflect a slavish following of the rules to remind himself how restrictive they can be.
He favours developing trees from seedlings so that he can shape the outcome from inception. This approach has enabled him to create striking root over rock bonsai and accounts for the vast number Trident Maple, Oak and Shimpaku Juniper he has in training.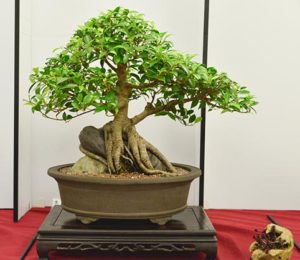 Luke's artistic interests originally began with painting and ceramics but now it is only working with clay that competes with the time he might spend working with trees. He uses hand-building techniques to create bonsai pots in styles that offer something different from conventional bonsai pots.
As a committee member of the club, Luke has taken on additional tasks but is determined to keep his focus on supporting others to work on their trees. He enjoys the teaching aspect of his involvement and as well as doing some Beginner's Workshop sessions, he is much sort after for advice by the rest of us.
Advice to novice bonsai practitioners
Learn how to filter all the advice – develop critical thinking skills.
There is plenty to learn – from the internet, from books, from the club.
Positions held within The SA Bonsai Society
Committee member 2015 – 18
Vice President 2019 –