Summer 2021 President's Report
Hi Everyone,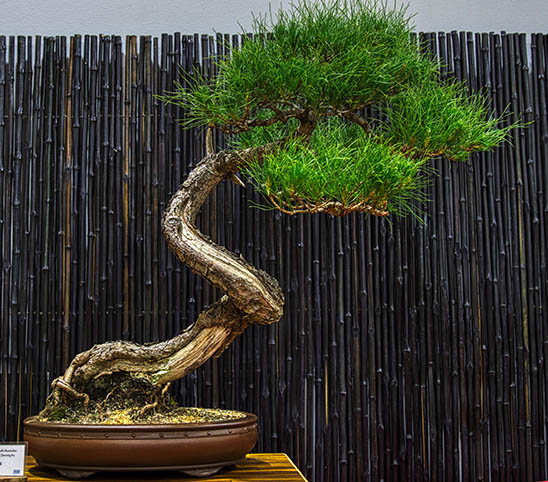 As I write this we are experiencing the first really hot day of the Summer, so I've spent the morning throwing shadecloth over the tomatoes, checking that the misters are working and blowing up the kiddies inflatable pool (a task much easier since I bought a battery powered air pump). It's been such a mild Spring most of my trees still have soft sappy growth, so this burst of heat will no doubt slow down a lot of them and hopefully the weeds too. Heat loving species like Jade and Ficus will now start powering on so it's time to start fertilising them strongly. The trees I had on display at our annual show look nothing like they did back in October, when I had trimmed and wired them to look at their best, but looking at their shaggy growth and unkept outlines is a reminder that Bonsai are always changing and they only appear at their best for a short time. There's some message there about the transience of beauty and whatnot, but I'll leave that to someone else.
October seems a long time ago but looking back I'm really pleased with how our annual show went. It's hard to predict how public events will pan out during these strange times but the quality of our display trees and the items for sale are a testament to the skills and hard work of our members. Sales weren't as brisk as last year (when you could have sold a soursob in a pot for a good price) but we made another good profit that will pay the rent for another 12 months and allow us to (hopefully) get back to having overseas and interstate demonstrators in the future. I've seen other Community clubs really struggle in the COVID climate and there no doubt will be some casualties, so for our club to not only survive but thrive has been especially pleasing and again reflects the hard work of our committee and members.
We are all hoping that once the borders are open and we've ridden out the next wave of the virus that we can go interstate and overseas visitors back on our schedule. There are no certainties but the committee are striving to get some Bonsai professionals back to Adelaide and run some demonstrations and workshops. We are also running a number of club workshops on weekends and other times for those who can't always make Tuesday nights. If the response is good then these might become a permanent feature. I'm also hoping we can return to having supper at our meetings too, as I miss the Scotch fingers!
As always, we will respond to whatever obstacles get thrown our way, and our members have shown themselves to be a resilient lot, so I look forward to seeing you all in 2022. Have a safe break, drive carefully, keep the sunscreen up and look after yourselves and your families.