Spring 2021 President's Report
Hi Everyone,
I've just spent the day repotting so there's dirt under my fingernails and in my hair somehow but it's always a nice feeling to know that your repotted trees will respond with good growth, and that watering will be easier this summer as the water will drain nice and easy through the new soil.
The small olive that I got at our last dig is all potted up and ready to go, easing into place amongst all the other olives that have been collected over the years.
Our most recent dig at the Onkaparinga national park the other week was one of more successful, especially in terms of the quality of the trees on offer. We moved further seaward from our usual spot and were rewarded with literally thousands of olives, many with thick lower branches and twisting trunks. Although I hate to see a national park get overrun with feral species, there's an opportunity for club members to collect many high quality trees for many years to come.
After the dig was over, I headed further up the park to where the olive monoculture gave way to actual native bushland, and I spent an hour wandering through the Eucalyptus strands. I was particularly taken with the Mallee Box (Eucalyptus porosa) forming natural rafts with plenty of twisting branches full of deadwood and interesting turns.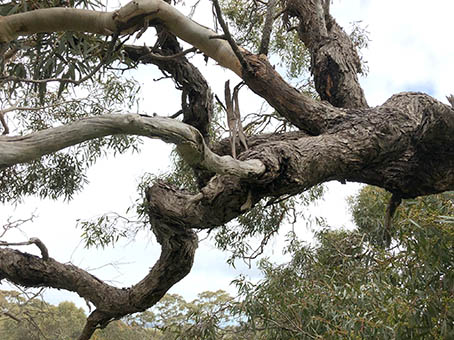 Increasingly these days I've been taking notice of the more interesting native flora that grows locally. River Red Gums never fail to impress, especially those huge specimens you see in paddocks in the hills that survived land clearing and have been left alone. Recently on a family trip to Robe I had to pull over and spend some time looking at some of the remaining strands of original bushland in the lower Coorong, dominated by ancient Melaleuca.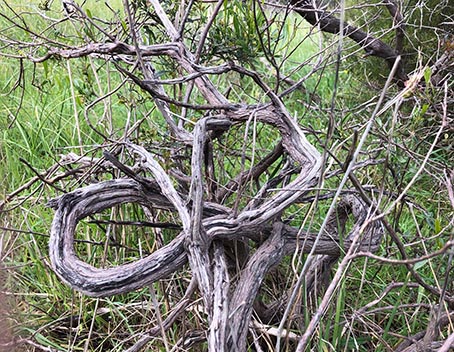 When Luke and I were scouting locations for our last dig, we came across some Sticky Hop Bush (Dodonaea viscosa) with amazing twisted and looped trunks.
Translating these forms into Bonsai is a challenge, especially as they don't conform to the more traditional shapes we work with and we don't have hundreds of years of horticultural knowledge behind us. But by experimenting with local species and looking closely at the forms they produce in the wild, I believe that we are in a position to create something unique to our area and provide a foundation for future Bonsai enthusiasts to build on. Creating Bonsai with species we are familiar with and drawing knowledge and inspiration from the Japanese is still one of the best ways to learn the art, but while we are doing this, we can also be stretching ourselves and expand the possibilities of what we can create with native trees.
Rant over. Look after yourself and I hope to see you at the next meeting. Our annual show is full steam ahead so get your trees ready!