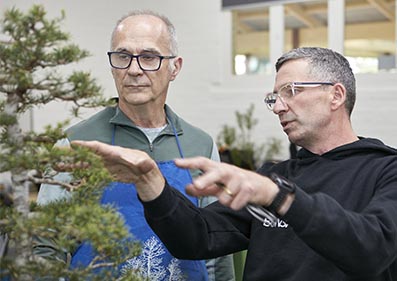 The weekend workshops with Scott Martin certainly boosted the knowledge and confidence of the participants as the following comments confirm.
Michelle Hurn
When the opportunity came up to attend a workshop with Scott Martin I had only been a member of the SA Bonsai Society for a few months. I was very keen and eager to learn, but would I be in over my head? Would my entire collection of bonsai (three!!) be "good enough" to be looked at by Scott (and other members) or would I simply embarrass myself?
I can now wholeheartedly say that from the moment I entered the space I was warmly welcomed and reassured that I would not be judged or criticised. I was there to learn, along with everyone else of all levels of experience. It was a wonderful morning of very valuable listening, observing, and of course hands on practice. Scott was very generous in his time and expertise which was offered well beyond the workshop parameters. I learned, among many other lessons, that no matter your experience in the world of bonsai, attending a workshop is invaluable for anyone and an opportunity not to be missed!
Thank you Scott, and thank you SA Bonsai Society for this fantastic experience.
Millie Ryan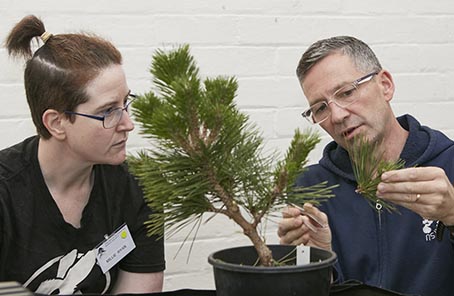 Over the last weekend in April, I had the opportunity to attend my first hands-on workshop with Scott Martin, to work on a Japanese Black Pine.
To say I was nervous going in would be an understatement, but after the initial consult with Scott, the nerves faded away as I got to work on choosing what to keep and what to cut on my project.
I learned how to start a jin, how to needle pluck properly, and how to help force the tree to shift its resources toward desired buds when spring starts.
While I enjoyed being the one to do the cuts, knowing I was being guided helped with my confidence as we worked our way up the trunk to reveal its potential.
I came in with a prickly mess, and I feel I left with a strong frame for what I hope to be a lovely tree in a few years time.
Karan Coombe-Smith
Thank you very much to all who organised the workshops with Scott.
I learnt so much in such a short time by having a range of trees brought in by participants.
My own tree, an Antarctic Beech Nothofagus has had a makeover and is looking great, compared to before the workshop.
Thanks for all the work behind the scenes by workshop organisers.