Sam Thompson workshop weekend 2022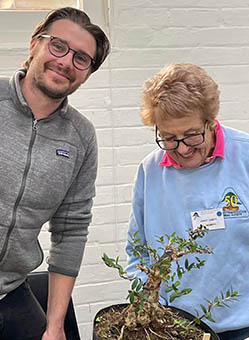 Janet Sabey
About 18 months ago I was fortunate enough to spend a day at the Arboretum in Canberra, where I first met Sam Thompson. It was a wonderful experience, and I was very impressed with the care and attention shown by Leigh Taafe, Sam and volunteers working there in caring for and maintaining the bonsai in the collection, both donated and on loan.
Consequently I was keen to sign up for a workshop with Sam on his first visit to our club.
I took along an olive which I had dug some years ago and was still in its plastic growing pot. I had hit a mental road-block with this tree and truly had absolutely no idea of its future, apart from being put up for sale at our show as evidence of my frustration.
Sam's suggestion was completely new and different. He gave me a whole new way of thinking about styling. You obviously can teach an old dog new tricks!
I'm really thrilled with the outcome and the direction in which I can now go with that tree.
So Janet 1 and Trading Table 0!
---
Ruth Creedy and Heather McDonald
We have just had a great workshop with young Sam from the National Bonsai Arboretum in Canberra.
It was so good to have access to the latest approach to Bonsai derived from his work experience in Japan.
His approach to all the trees was very focussed on form and design and how to develop a variety of options for our trees. Aussie natives, Olives or traditional Pines – Sam was equally at home presenting original designs and concepts everyone could follow.
More workshops with talented young Bonsai stars is the way ahead.
Well done to the organisers, securing Sam's services and an excellent venue.
---
Refreshingly Different – Bruce Sparrow
I attended the Sam Thompson Sunday Bonsai Demonstration and Workshop and found it was refreshingly different giving me renewed enthusiasm. The demonstration before the workshop was most enlightening, whilst the actual PowerPoint part was slightly delayed due to technical difficulties, the contents were "spot on." I wish I had heard it years ago.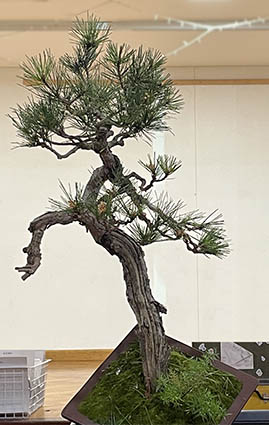 Sam explained that you needed a short, long, and future vision, at this point and I thought . . . "Here we go, I've heard this before." However, things changed as he produced photos detailing the development of his award-winning black pine bonsai.
Sam began by showing how the trees grew naturally in Japan, then how he tried to mimic this. This is the first time I had heard a demonstrator explain this . . . others have been concerned about how they could fit the tree into a traditional Bonsai style. This was very refreshing as I had heard previous demonstrators say that Bonsai are trees in a pot, not potted trees!
I will now attempt to make my Bonsai look like the trees I see each day . . . natural.
As for my tree that Sam assisted me to style . . . it looks nothing like the tree I took and nothing like the tree I expected, BUT I am sure it will develop into an attractive tree after this and the following growing seasons.
Thanks Sam . . . I learnt a great deal in a brief time.
PS:   My review of the day . . . visiting tutors are not all the same, Sam was excellent!
---
David Russell
For the second time in as many months, the SA Bonsai Society hosted a visiting demonstrator for a series of weekend workshops and a presentation + demonstration.
The very creative and talented Sam Thompson spent the weekend with club members sharing his skill and enthusiasm in several small workshops and a presentation that was open to all members.
Sam's role as the Assistant Curator of the National Bonsai and Penjing Collection, his extensive international training, together with his acclaimed personal work, ensured there was no shortage of expertise and enthusiasm!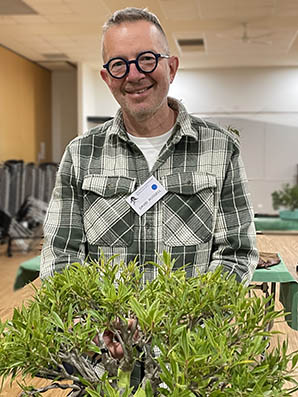 Sam's presentation included many examples of his personal work to illustrate his concept of the evolution of a composition. We saw the progression of some of his award winning group plantings as they evolved over several years, and he reminded us of the importance of observing trees in their natural environment.
The workshop that followed was another great opportunity to obtain guidance from an expert on styling and developing our trees. The workshop was not only a chance to learn from such an accomplished bonsai artist, but it was a great occasion to get better acquainted with other club members and to hear their stories and watch them work on their trees.
These workshops provide an amazing opportunity to broaden your bonsai knowledge no matter what stage you're at and I'd urge everyone to sign up for the next one.
Thanks again to Sam Thompson and to the committee for all their effort to make this happen.