Tony Bebb Worksop – July 2022
The Value of Visiting Demonstrators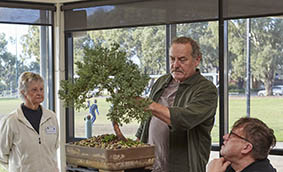 The SA Bonsai Society recently hosted acclaimed bonsai artist and demonstrator Tony Bebb for a series of weekend workshops, a club presentation and individual one-on-one sessions
in July.
I was fortunate to secure a place at the Sunday workshop, and enjoyed a fantastic day of learning as Tony moved between participants guiding us in the styling, care and maintenance of our trees.
Tony spent time working individually with each of the eight or so participants and we also had the opportunity to observe and engage as Tony moved around the room working on the great variety of trees that people brought to the workshop.
Tony's skill, enthusiasm and friendly communication style meant everyone, from beginners
to experienced club members, all enjoyed a fantastic opportunity for hands-on learning and
left with a yearning for more!
For those members who missed the opportunity to participate or observe the workshop this
time, I would highly recommend it as a sure way to benefit your bonsai journey.
Thanks again to Tony Bebb, and the committee members for making it happen at such a
great venue .