Creating a cascade bonsai with Tony Bebb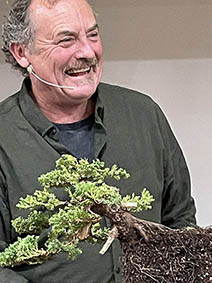 The focus of Tony Bebb's demonstration (SA Bonsai July 2022) was on the cascade style which happens to be one of his favourites and one that he took to heart early in his bonsai journey. To better understand how the cascade originates he recalls when he first had his driver's license and ventured to a mountainous area to see how the cascade appears to grow upside down due to the conditions forced on it by cliffs and difficult weather conditions.
To challenge our thinking Tony drew on a riddle or zen koan. He asked us to name what it was he uses to create a cascade that we will never see.
Of course, he didn't provide the answer immediately as this would have defeated the purpose of the koan which is designed to encourage the student to think laterally in solving a problem and thereby absorb the concept more strongly.
(Think about this before you scroll down for the answer)
He then explained how critical it is to consider the mountain when designing the cascade: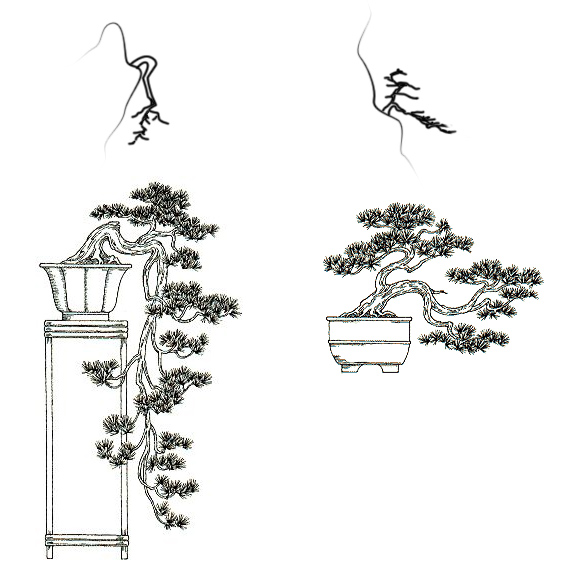 Firstly he explained the difference between the face view and profile view because a cascade should always grow to one side or the other to make the base visible.
In this profile view the side branches, which now appear to be at the back, should always be the longest and strongest.
The tip at the bottom of the cascade should tilt upwards towards the sun to show vigour. In this way it remains similar to other branch tips.
Strong roots should be growing away from the cascade as this is how it is anchored to the mountain and maintains stability.
Foliage from the apex should never grow backwards beyond the trunk. In nature it would be hitting the mountain.
A cascade is usually best in a taller pot and a semi-cascade in a shallower pot.
Other important points :
Developing the structure of primary and secondary branches is important. Keep in mind the need to create space for 'the birds to fly through'.
Copper wire is best for conifers as the branches are often thinner so the smaller guage copper will hold them.
Keep coils closer together if movement is required on a smaller branch.
When wiring branch to branch, keep the first coil that passes the trunk very close to the trunk.
Sacrifice branches shouldn't be too close to the base of the trunk as this fails to thicken the whole trunk.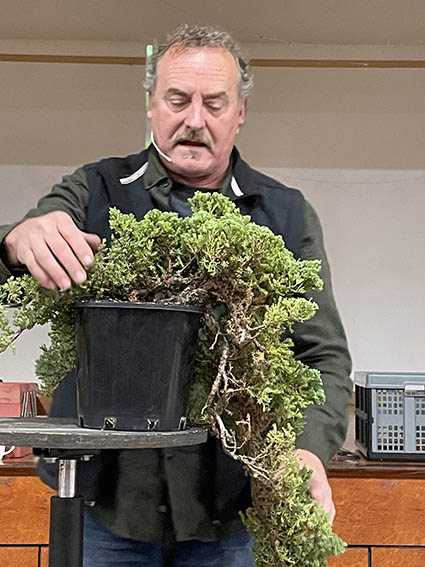 Tony's zen koan: What is it he uses to create a cascade that we will never see. The answer – the mountain.