Annual SA Bonsai Show Reflections
Don Gillis
As a novice I've been quietly improving my skills, knowledge and trees to be able to eventually have them to a standard where I felt they were worthy of public display. I was somewhat humbled to be invited to participate in this year's exhibition, even if it was just topping up the 'weeds section'.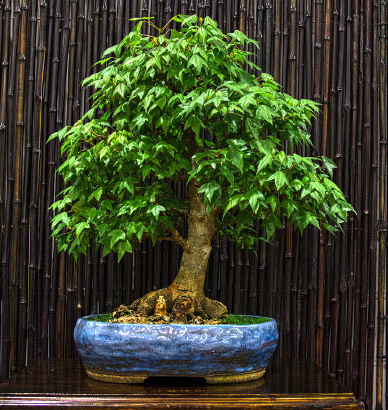 The exhibition was well attended by the public. Occasionally getting close to our COVID limit, we were rewarded with a fairly constant stream of visitors across the weekend, with many of them happy to open their wallets in the sales area.
While I believe sales may have been down a little on last year's grab fest, we still managed to satisfy the appetite for bonsai materials. It was quite obvious that many of the public look forward to our exhibition, and especially the sales. As I was stood among the pots on Saturday morning, there was a great rush as a couple of obvious regulars to the event snapped up armfuls of pots as they exchanged snide pleasantries at having missed out on whatever the other had grabbed.
The quality of the trees displayed continues to excel, with many of the visitors drawing members into lengthy conversations about the trees on display. Those same people were often subsequently motivated to not only purchase products, but also take up membership.
Mick Coward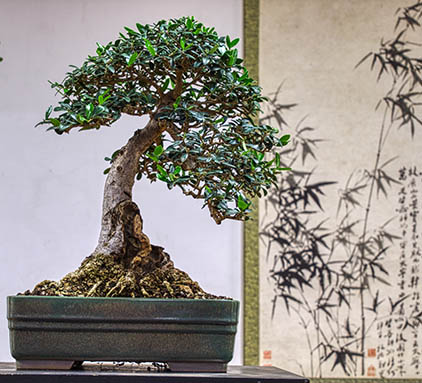 The Bonsai show of 2021! What a bright spot in the gloom after being 'locked in', 'locked down' and 'locked out'.
This was the second year of COVID 19 and had us mumbling through masks and struggling to understand each other. Despite these discomforts, my first impression was the stunning display of groomed trees. I especially liked the fruiting mulberry and the Lebanese cedar – almost biblical.
There was also a bountiful supply of trees to buy from a Cape Honey Suckle almost ready to leap to freedom, down to delicate little cacti. Lots a pots, pebbles and personalities. Friendly advice abounded from members to questions posed.
In summary, the show was well orchestrated, well run and a great starting point for all levels of bonsai enthusiast.
PS: I joined the society 3 years ago after visiting the bonsai show!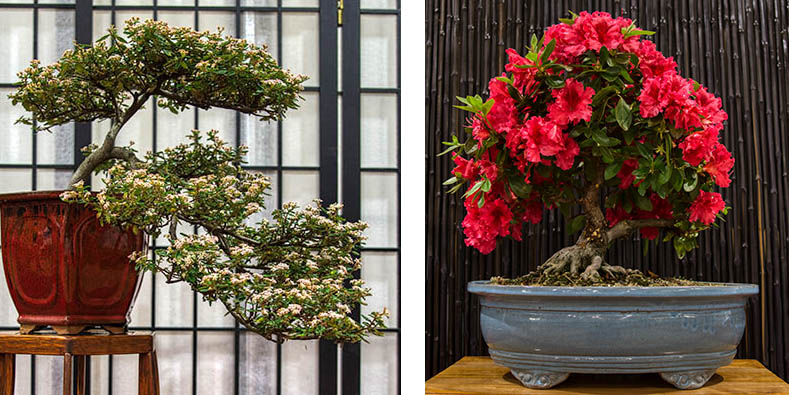 Connie Holland
The Bonsai Show this year was the second one I've attended. I was so impressed last year that I became a member so for me this year was even better.
A credit to Matt and Luke and all the committee members who give so selflessly of their time, their expertise and their vision.
The display was exceptional, the plant sale too, was fantastic – displaying a great variety of bonsai in all different stages and for sale in different price ranges.
There were plenty of members to help with explanations with regard to plants and the architectural aspects of bonsai. There were plenty of pots, equipment, books and other items for sale
The organising of the event can't be faulted and I continue to be impressed by the skill, generosity and helpfulness of long standing members.
I am very glad to be a member and am very grateful that the enthusiastic support of members is contributing to my passion for the art of bonsai and that this will continue for many years to come.
Jude Lobow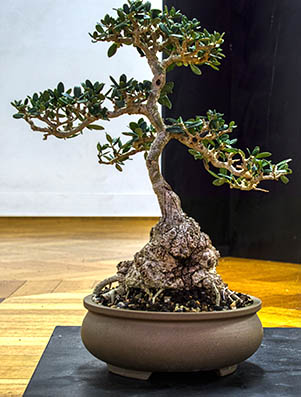 I want to take the time to congratulate the committee on another beautiful event.
I was lucky enough to have the day off to help set up for the occasion with many other community members. It was great to see everyone come together and celebrate all things bonsai! In these challenging times, it's good to know we can still meet with one another and continue to "grow" excitement around what we do. I look forward to seeing everyone at the next event.
Pearl Driver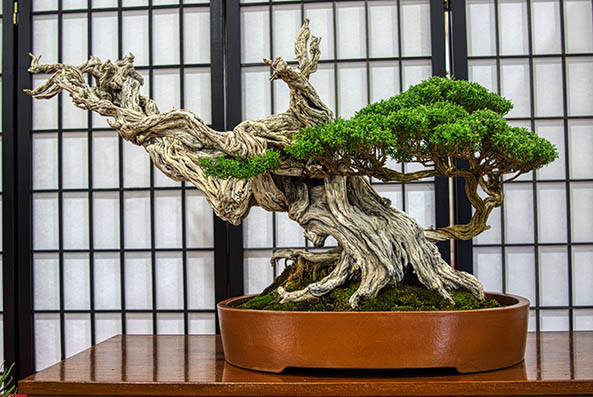 I joined the Bonsai Society at this year's October show.
I was really impressed. Unfortunately when I returned home my house sitters had forgotten to water my new bonsai and it was dry as a bone. Of course I tried to revive it with new potting and soaking the roots in rain water but all to no avail.
The small bonsai I bought at the show has also died although I tried to give it all the correct attention. Am feeling sad about this.
There are no available bonsais here in Coober Pedy so I will have to buy another one when I next come to Adelaide.
Not a good outcome so far but I did enjoy the show and especially the demonstrations. I hope I can come next year.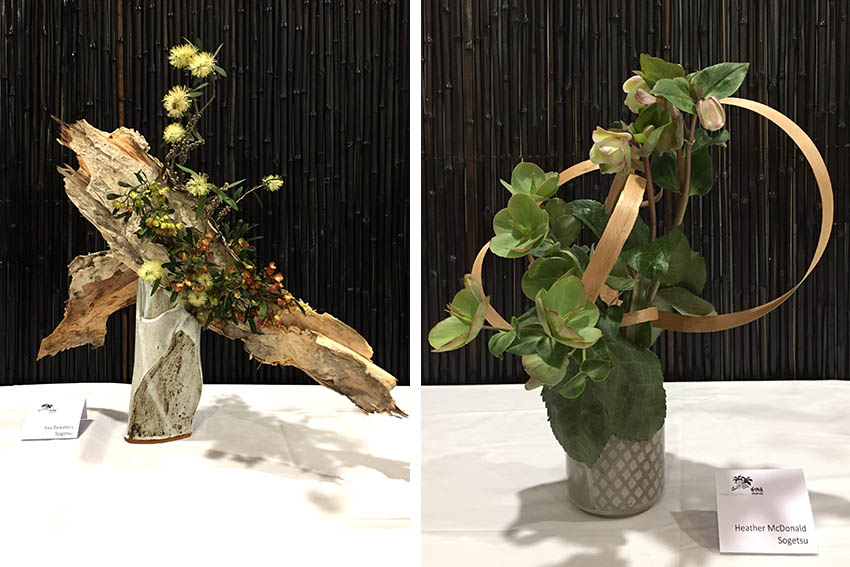 Annie Reid
COVID is a horror but there is no doubt it has forced us to steam line our show in such a way that improved presence has been given to the bonsai on display.
Entry/exit procedures are another one of the elements that have been improved although I think we all miss the coffee cart and will find a way to reintroduce a Novice display next year.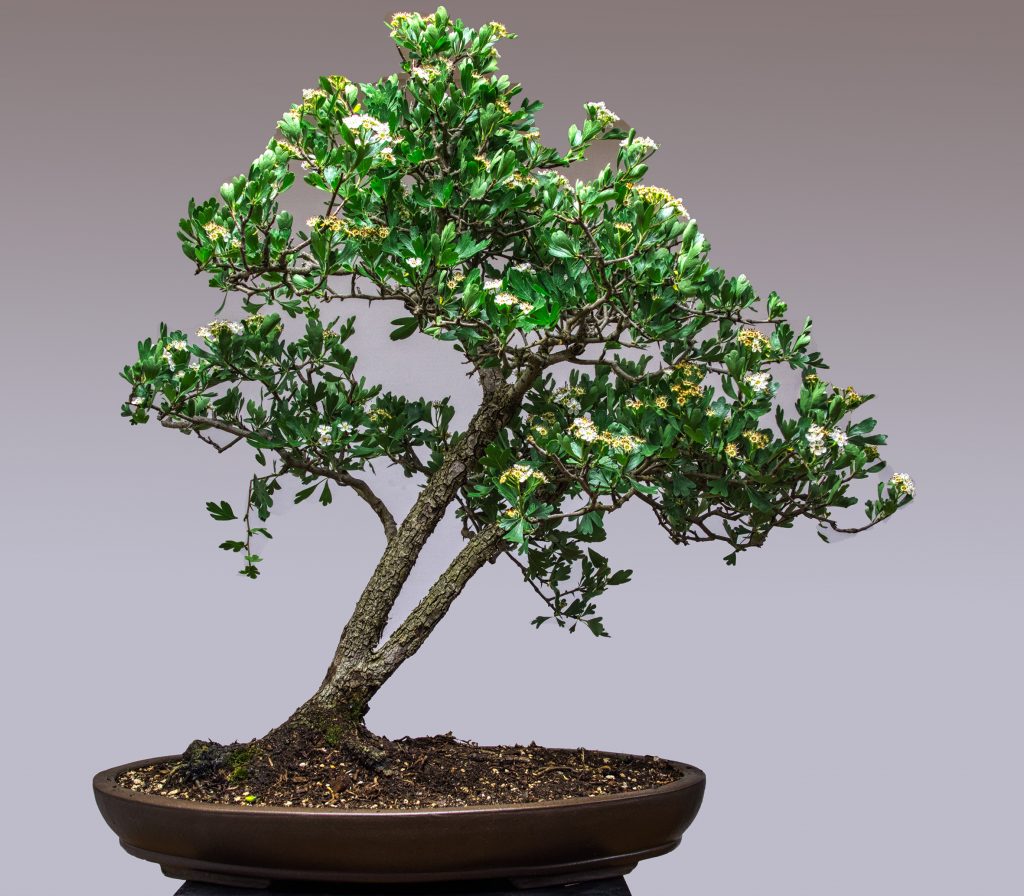 Once again, we were joined by our friends from Ikebana International Adelaide Chapter and their presentation of flowers drew many admiring glances.
The highlight for me this year was the strength of the stage display. The theme was 'Trash and Treasure', showing how plants considered weeds around Adelaide, such as olive, hawthorn and ash trees can be transformed into beautiful bonsai. Each tree was powerful in its own right but collectively they were a knockout.
Luke Parsons gets the hero award for the display, particularly as I know he put it together at the last minute.