The bonsai pictured below is believed to be the oldest living tree in Australia to have been grown and designed specifically for bonsai. It was kindly donated to the National Bonsai & Penjing Collection of Australia (NBPCA) by Dorothy Koreshoff and was originally grown by her late husband Vita.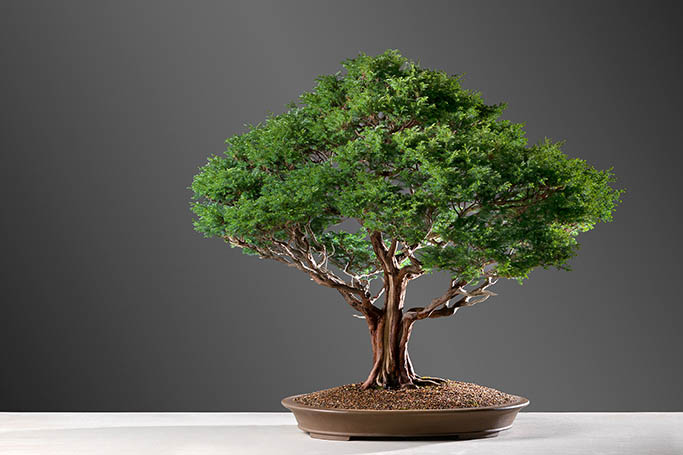 Vita arrived in Brisbane, Australia, from Manchuria in 1928, with his parents and sister. Initially because his mother was feeling homesick, Vita was prompted to make a few bonsai, thinking that these would serve to remind his mother of their previous home. This began Vita's interest and enjoyment in creating and growing bonsai, an interest that he continued to enjoy for the rest of his life.
In their home in Brisbane, some of the trees that Vita had propagated were planted into the ground when the decision was made to move from Brisbane to Sydney. However, a number of trees were brought to Sydney at the time of this move, one of them being the pictured "Sawara cypress" (Chamaecyparis pisifera 'Squarrosa'), grown from cutting in 1937.
The tree has had many techniques applied to it. It was split down the centre to alter a bar branched appearance, but after 50 years the callous has almost filled the gap. Vita also formed sinews on the trunk by making a sliced cut down the trunk, allowing it to callous before slicing again and again, which produced depth and appeal as a raised sinew. As time passed, the trunk has developed into the most interesting feature to reflect its age.